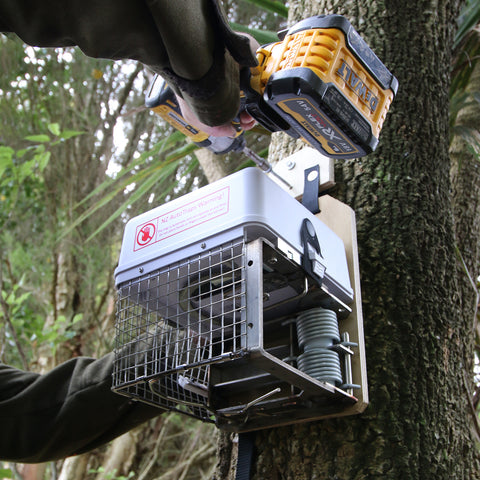 Setting up the AT220 Automatic Possum and Rat Trap
The Ramp: The recommended ramp provides two main functions. Giving possums a perch and to lift the trap off the ground, keeping kiwi and other non-target nocturnal species safe.
Department of Conservation stipulate the bottom of the trap should be 75cm off the ground in kiwi country. The ramp should be setup to meet the bottom of the rat ladder (the dangling piece of webbing)
Any log or piece of timber is suitable, just ensure its stable and steep.
Try to position the ramp so the lure drips down onto it.
Other tips: Rats and possums are great climbers so don't worry too much about trap height.
If your main target are rats and mice, (and possums and flightless birds are not present in your area) you can try setting the trap as low as 25cm from the ground.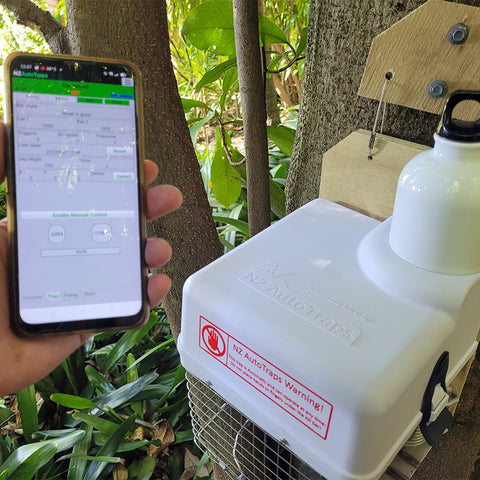 Connecting the App
The trap does not require the app to function but it does have some great features and provides access to useful data.
It's best to test and get to know the app whilst at home and connected to wifi.
1. Download the AT220 App to an android device.
2. When next to the trap take off the trap lid and press button once to wake up trap.
3. On your device turn the wifi on and search for wifi network.
4. Select ESP...
5. Exit this menu and open app.
6. Press "GO"
7. In the app, scroll through Comms/Trap/Pump/Tech menus, to access trap data and allow manual control.
Triggers = total number of times trap has been triggered via eye beam.
Cycles = number of times trap has reset (inc manual resets and miss-fires).
Possums = number of large animals caught (approx).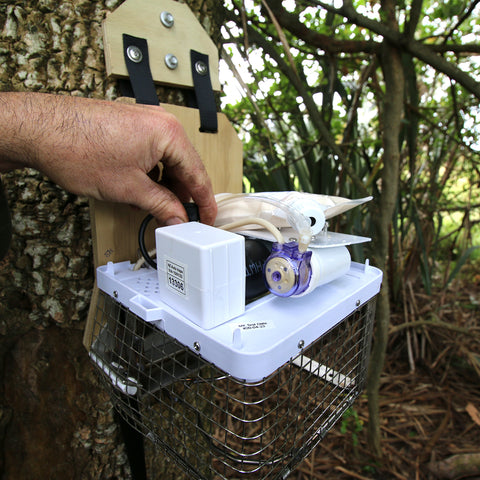 Changing the battery and lure (the 3-6 monthly service)
Unscrew the top off the lure pouch, top up to 2/3rds full, replace top.
Remove trap lid by removing side catches, press tabs, lift lid.
Unscrew battery and replace with recharged battery. 
Press button once.
The green light indicates it's succesfully connected.
Tips for trapping with AT220
Location of traps: Like humans, pests will often follow ridges, valleys, roads, paths, rivers and fence lines.
Food sources: Targeting fruit trees and possum favourites like rata and kohekohe will make a massive difference in trapping success.
Supplementary lures and baits: By all means experiment with other attractive lures around the area that the AT220 is located.