About NZ AutoTraps
As reliable and hard working as our traps - here at NZ AutoTraps we aren't afraid to roll up our sleeves and do the dirty work. We back our traps 100%, so you can trust that it really works!
We're at home in the backcountry, and know what it's like to work in New Zealand's hard-to-reach places. We will meet you on your level, we have respect for kaitiaki and their approach to looking after the land.
How it all began
It all started back in 2016 when our inventor Kev recognised the need for a self-resetting predator trap custom built for the NZ environment.
Kev set out to create something that outperformed the single set traps. He wanted to create a trap that not only reset itself, but targeted multiple species to eliminate the need for multiple traps. His trap was going to increase the controlled area without having to increase labour requirements. He was going to make a trap that didn't require frequent resetting or re-baiting.
After 12 months – Kev had one exactly like that! His prototypes were ready for the Fieldays and the NZ AutoTrap design made it's debut. The initial design was awarded the Locus Research Innovation and Tru-Test Prototype Grassroots Awards and Kev's dream started becoming a reality.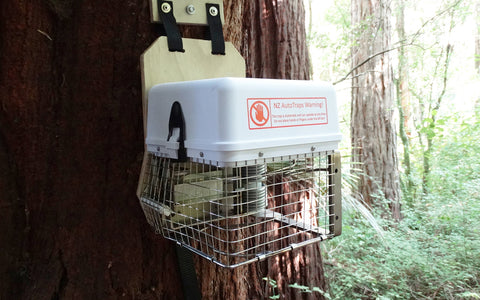 Who we are
NZ AutoTraps was founded and still driven by mechanically minded people, passionate about native New Zealand.
Our factory is based in Whakatane, New Zealand.
What better place than "The Kiwi Capital" where decades of pioneering pest control has allowed for an urban population of the threatened North Island brown kiwi to thrive!
With a team of dedicated manufacture technicians based on in our Whakatane workshop - the factory is busy assembling, servicing and distributing traps all around New Zealand.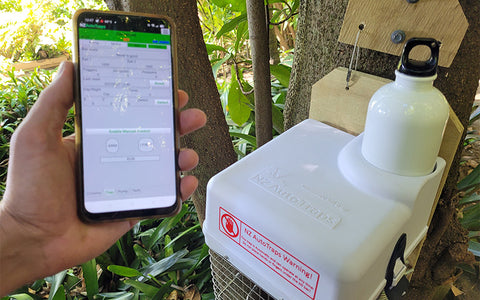 Where are we going
6 years in-field experience and over 15,000 traps.
It's time to look to the future...
The cost of sensors and communications are reducing every year and this opens the door for exciting new opportunities to enhance:
* Data collection
* Advanced lure systems
* Further improvements in reducing by-catch
Alongside ever-increasing production and refinements we are currently working on a project to detect and exclude the tenacious New Zealand kea, the world's only alpine parrot.